SecDSM, a monthly meetup providing the opportunity to network with other InfoSec pros and listen to short tech talks presented by your fellow members (or give a presentation yourself!) while enjoying some beer/drinks/food. No sales pitches. The idea is to provide you actionable knowledge for you to take back to your $dayjob while building a top tier InfoSec community in the Des Moines area. If you have the desire to learn about real world InfoSec scenarios - get out of your comfort zone - and join us in a relaxed vendor neutral environment. No registration is required.
Schedule
We meet monthly, on the 2nd Wednesday starting at 6pm at The Basement Bar at the Des Moines Social Club in Downtown Des Moines.
Shirts (and other items) are for sale online.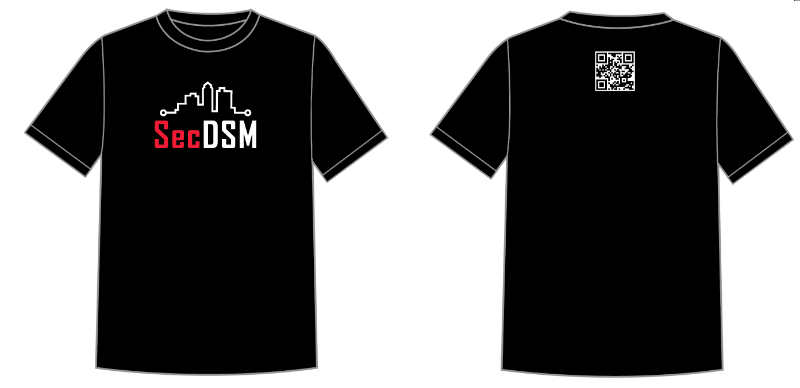 Please join us for the July ISSA Des Moines meeting and lunch at EMC with our special guest speaker Craig Leabhart.
The ISSA Des Moines Chapter will be holding a special election for Chapter Vice President. You may send nominations to secretary@desmoines.issa.org and you must be a Chapter member to be a nominee. You must be present or viewing remotely to vote.
Session Title: Malware Analysis for Incident Response
Short Description: There are a lot of different incident scenarios that companies are faced with. While malware isn't involved in all of them it can pose a significant threat. The 2019 Verizon Data Breach Investigations Report cites malware as being involved in 28 percent of breaches. Having even basic malware analysis capabilities can bolster your SOC and improve the effectiveness of your incident response.
Bio: Craig Leabhart -- Information Security Analyst
Cybersecurity first responders need to react quickly to identify data breaches and minimize potential losses. Make sure that your evidence is properly preserved in those first critical minutes after detection. This intensive one-day class will teach you the fundamentals of incident response and digital forensic acquisition, including incident planning, detection, and communications; chain-of-custody and evidence preservation fundamentals; volatile memory acquisition, hard drive imaging, and network-based evidence acquisition.
Get hands-on experience taking a forensics image, preserving volatile memory, and capturing network traffic. Designed for staff that are responsible for triage, evidence preservation and incident response. Bring your caffeine and be ready!
Upcoming cons
Some members are anticipating attending the following conferences, reach out on slack to coordinate travel.
The Basement Bar at the Des Moines Social Club
901 Cherry St, Des Moines, IA 50309