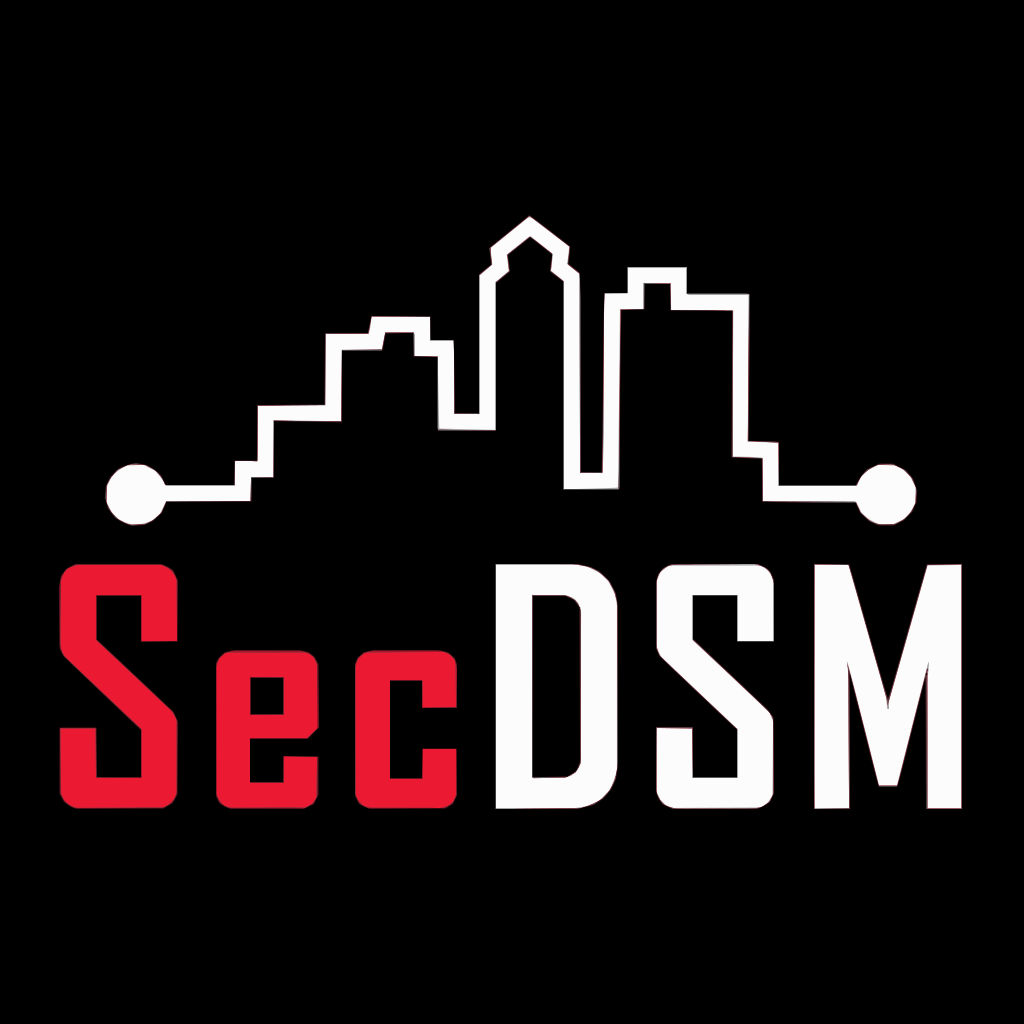 Sponsorship Information
SecDSM is a 501(c)(3)
These sponsorships help cover the costs of our website and hosting, shirts, stickers, cryptocurrency mining, meeting and external speaker's travel costs. This also goes towards the creation and support of educational workshops. Sponsoring at this level provides the following benefits:
Sponsor-provided banner hung in a prominent position on entry to venue.
General space for brochures, material, or swag available at event.
Sponsor will be announced during opening talk (SecDSM 101).
Sponsor logo on website displayed at the bottom of the month's schedule.
A representative (1) of the sponsor will have 60 minute exclusive one-on-one meeting with a member of the SecDSM leadership team.
Sponsor logo displayed on surrounding televisions before and after meeting (during meeting will be used for SecDSM media)
Sponsor has an opportunity to contribute to grab bag with branded items. (But is not required to)
This sponsorship allows a unique opportunity and method to interact with the SecDSM membership. Every meeting SecDSM hosts a "miniCTF", which has generally been a single challenge to be solved during the meeting. We have good participation in these CTFs and we give away prizes. It takes a challenge author about 10-15 hours to create the challenge.
Selecting this sponsorship will provide everything the standard sponsorship does in additonal to the below:
Co-Branded miniCTF

Sponsor name will be incorporated into the title of the challenge
Sponsor logo placed on the miniCTF "entry" page

Sponsor will provide prizes to winner(s) (feel free to provide 1st - 3rd place)
Photo with winners posted on SecDSM social media pages
Challenge author will work with the sponsor to create a custom challenge specific to your company

For Example:
If the sponsor company provides threat intelligence services, we could utilize tor hidden services in the challege
If our defined options don't match your budget or you would like to make a more significant sponsorship - we'd love to hear from you. Send an email to info@secdsm.org and we'll figure something out.
Sponsor Responsibilities
Communicate with SecDSM which benefits will be utilized so we can better support the sponsorship.
Provide any and all banners or signage appropriate to the sponsorship outlined above.
Provide any and all brochures, material, or swag appropriate to the sponsorship outlined above.
Provide logo for inclusion in announcements.
Available sponsorship slots can be found below
| Month | Primary Sponsor | miniCTF Sponsor |
| --- | --- | --- |
| Janurary | Palo Alto Networks | |
| Feburary | Cisco Systems, Inc | |
| March | Symantec | |
| April | Optiv | Optiv |
| May | Recorded Future | Recorded Future |
| June | Vectra AI | |
| July | Check Point Software Technologies | JetBrains |
| August | ObserveIT | |
| September | McAfee | |
| October | ProCircular, Inc. | |
| November | | |
| December | | |
Sponsorship
If you're ready to sponsor a month, fill out the form below. You'll be emailed a receipt and we'll provide a formal charitable donation receipt at the meeting.
Someone will contact you shortly after payment is completed.